Introduction
By Megan Mueller
(04/14/14 09:46:09)
Related animal: Cat
I lost my cat in Flagstaff Arizona for three days. My boyfriend, my cat and I were making our way across the country from Washington DC to Goleta CA, where I would be starting graduate school at UCSB. We began our trip in Pittsburgh and Detroit to see family and then made our way across the mid west through Wisconsin, South Dakota, Colorado, Utah, on our way to the Grand Canyon. By the time we arrived in Flagstaff, we had been traveling for about three weeks, and I was a confident traveler. Trout, our cat, also seemed to be adjusting to the trip quite nicely. We allowed her to roam freely in the car and she enjoyed napping under the back seat. We arrived in the Flagstaff campsite around midnight and it was quite dark. I opened the doors of our van, put on a sweatshirt, closed the doors to our van and then walked to the common bathroom. When I came back to the car, I opened the doors, expecting to see the cat and did not. We opened the back doors, looked under everything, and did not see her. At this point my boyfriend and I are hopeful that she just got out of the car when we went to the bathroom but panic is escalating in our brain. We are using the flashlights on our cell phone to scan the area, rewalking the path the bathroom, opening cans of food (a sound that usually send her running from any room in the house). We are making all the kissy cat noises you can think of, calling her name. But its midnight in a packed campsite so we are fighting that politeness in your brain that tells you not to yell when people are sleeping. Do you? Don't you?

Over the course of three days, it rained, we walked the campsite with treats and yelling her name, we read every post we could find online about how to handle a missing cat, we made missing cat flyers, we talked to the employees of the campsite. The trip to the Fedex to make lost cat posters was perhaps one of the saddest in my life. We were instructed to empty her cat litter around our campsite and that cats can smell their litter for up to four miles away. We also had opened cat food and treats by our site. We didn't sleep much in the three days. We left opened cat food outside and it attracted skunks at night. Thinking it was Trout, we'd race to the window with hope but realize very quickly it was a potentially smelly visitor. By day three, I was fighting the urge to google year round weather predictions for that part of the country. I was resigned to stay there as long as I could afford to.

On the third night, I thought I heard something outside. I told Sam, who quietly walked up to the window. He didn't see anything and returned to bed. I should mentioned at this point, the employees of the campsite felt so bad for us because of the lost cat and the rain, they were letting us stay in a cabin right next to the campsite. So cat litter, cat food, is on a covered porch of a little one bedroom cabin about 20 feet from our original campsite. We heard another noise, Sam got up and went to the window. At this point he said nothing and opened the door. Trout was on the porch and walked nonchalantly into the cabin. Sam shut the door. JOY! JUBILATION!

She came back. She was damp from the rain but otherwise perfectly fine. She had a bit of sap on her front arm, so I hypothesize she'd been taking cover in a tree? We'll never know. We feed her immediately and she was quite hungry. Sam said it took everything he had not to act excited when opening the door for fear it would spook her and she'd run away. She came back! I still can't believe it as I write this, almost eight months later. We left Flagstaff for the Grand Canyon the next day. Distracted from the previous three day saga, the Canyon was too large to comprehend. Maybe we'll go back one day and leave Trout with a cat sitter.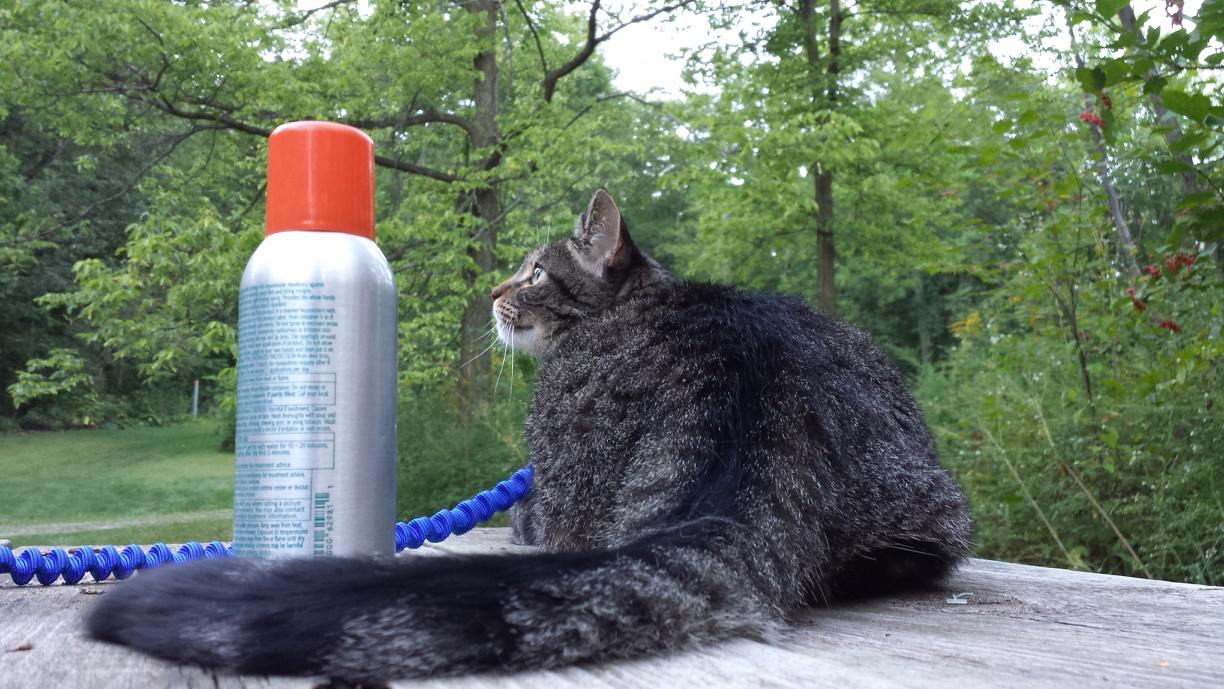 [Write Comment]
Comment by LisaJ
(04/26/14 14:29:11):
How fantastic! Maybe she didn't like the basic accommodation of the van, but when she realized you had been upgraded she decided to come back giving you a second chance to prove yourself worthy of her company :-)